About ``Perfectly Paired``
Set in the romantic era of Napa Valley as it rose to world renowned fame in the latter half of the century, Bonny and Justin's love story began while she was a college student and he a monk. Their forbidden love could not be contained and so began the next thirty years of their life together. They raised a family alongside owning and establishing two wineries.
Through a heart-felt exploration of her life, Meyer weaves her beautiful story of love and loss, passion and grief. Beginning with the tragedy of her husband's sudden death, the author takes the reader on the journey of their life together, intricately intertwined with wine.
Perfectly Paired is a love story, detailing the passion that nourished and supported Bonny and Justin throughout the ups and downs of life and business. Through her deep grief and abiding love, Meyer shares wisdom on moving forward to live a full life with joy and purpose.
"A memoir of grief, love and life reentry, Bonny Meyer takes the reader inside her life with a mesmerizing voice you can hear through the pages. For anyone who loved and lost, Perfectly Paired will walk with you to the depths of loyalty and intimacy bridging the past and present with wine, adventure and love for life. Grab some tissues and step into Bonny's big life before, during and after loss. You will forever be changed." —Christina Rasmussen, Bestselling author of Second Firsts and Where Did You Go?
"At times heart-wrenching but always heart-touching. Meyer's courageously candid memoir of her passions, personal and professional, deserves to be read by anyone searching for meaning. She delivers at the same time a lively page in the storied history of Napa. This tale is uplifting for wine-lovers, and lovers, period." —Stephen O'Shea, Author of The Alps: A Human History from Hannibal to Heidi and Beyond and Sea of Faith: Islam and Christianity in the Medieval Mediterranean World.
"Meyer takes us on a captivating journey into passion as she bravely and tenderly recounts the life she shared (and continues to share) with her now deceased husband and her God, proving that life and love are eternal. Part memoir, part relationship guide, part grief counseling book, this is a heart-expanding tale for anyone who wants to know the depths of real love." —Karen Brailsford, Author of Sacred Landscapes of the Soul
About ``Plain Talk about Fine Wine``
The full story of grape growing and winemaking from the founder of Silver Oak Cellars in California's Napa Valley. A complex subject told in straightforward language. An education for everyone who savors a glass of wine.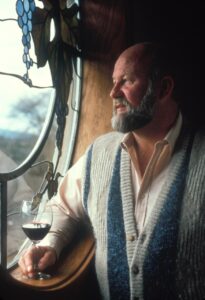 Justin Meyer Bio:
Justin Meyer, co-founder of Silver Oak is considered a Napa Valley and California wine legend. Beyond his legacy winery and wines, he is considered responsible for the Napa Valley's focus on Cabernet Sauvignon and a robust viticulture and enology research support organization, American Vineyard Foundation. He created Plain Talk as a basic wine appreciation text for the class he taught at the time. It was important to him to include important topics he felt were missing in other wine books. What was most important was to give the reader confidence in their personal wine preferences.
"A non-technical and fun paperback that contains everything you want or need to know about wine…full of clever and amusing anecdotes and quotations — chock-full of both serious and whimsical opinions."
—Nancy Eckes, St. Helena Star
"The full story of grape growing and winemaking…[the readers] are urged to have confidence in their own choices."
—Bookpeople
"Meyer talks…as a laboring winemaker telling how wine is made…in very simple terms. A fine beginner's book as well as a reference for the more advanced eonophile."
—Mort Hochstein
"This is a one-of-a-kind book that…I just happened to discover. There is a great need for it, as there are many people who are intimidate by the wine world and need some plain talk about it."
—Judy Reynolds
About ``Port: The Secret Ingredient``
What's the secret to a great meal? Wine, of course! But, not just any wine and not just as a beverage to compliment the meal, however, what about cooking with wine? Well, to be specific, how about Cooking with Port? From the classic recipe like Port Chocolate Truffles to the non-conventional Baked Oysters with Tomato Port Sauce. I promise you that once you try it you won't look at Port in the same way ever again. Also, you may not cook without it again. Believe me; it's been known to happen!
Holly Meyer Bio:
I have owned, started, and sold my own business and been an employee of a corporation. In all of my experiences, I have found that I excel at efficiency, organization, and getting the job done. Although I am good at working independently, I much prefer to work on a team or to lead one. When part of a good team, I love to cultivate fun and company culture. Along with my work in design and more, on the side, I am also a partner in a family port business, participant in a family philanthropic foundation, and an author of this self-published cookbook. In my free time, I enjoy spending with my amazing fiancé and my sweet dogs, domestic and international travel, cooking and having friends over for dinner.
"Great recipes! Wonderful recipe book full of great ideas for entertaining & cooking with Port. A must have for anyone who loves to host dinner parties."
—C&A
"Daughter, Holly, has taken the appreciation of Port…by bringing you over 60 ways to cook with and enjoy this great classic wine. So, if after eating some Beef Tenderloin with Port Sauce or finishing your meal with Holly's divine Meyer Family Port Chocolate Truffles, you feel like playing a little cards…Play for nickels and dimes, drink some Port, tell jokes and laugh a lot." —Bonny Meyer