By Bonny Meyer
A moving, behind-the-scenes look at the making of one of Napa Valley's most legendary wineries, Silver Oak Cellars. Bonny Meyer, co-founder and wife of wine legend Justin Meyer, provides an intimate portrayal of the love affair that infused Silver Oak's magical cabernet.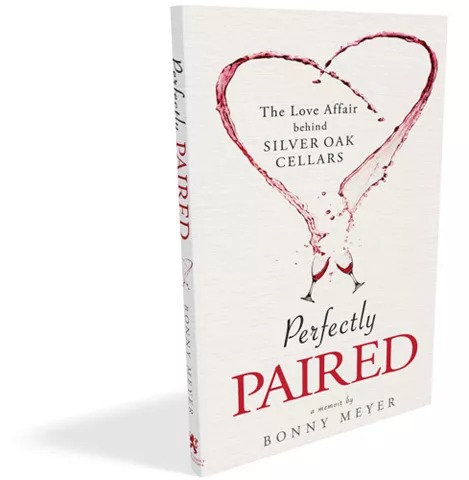 BIO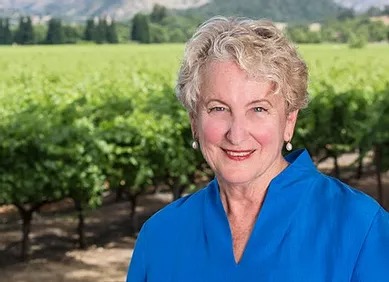 Bonny Meyer began thinking and writing about the nature of love when she was fifteen. She met Brother Justin shortly after she turned eighteen at his 29th birthday party. They spent that evening playing music together igniting the love affair that changed their lives and ultimately spawned Silver Oak Cellars.
Napa Valley vintners, inspired by the extraordinary success and reputation of Silver Oak Cabernets focused more and more on that variety. Today, Cabernet is considered the king of the Napa Valley red wines with some bottles commanding as much as $1,000. Its flavor profile displays a wide variety of black fruits, including currant, cherry and plum, often showing notes of spice from American or French oak barrel aging. It pairs beautifully with robust red meat dishes such as game, lamb, aged steaks, cheeses, and love.
​After establishing and growing Silver Oak and the unexpected death of Justin, Bonny devoted her attention to addressing world environmental, social, and economic challenges by financially supporting social ventures. She has been acknowledged by Forbes Magazine and the financial industry as a pioneer of impact and regenerative investing.
After years of encouragement to write about their love affair, she decided to share the story of how she and Justin met, fell in love, and created a business and wines infused with their values and love for one another.
Today, Bonny Meyer is the Principal of Meyer Family Enterprises, an investment company dedicated to the regeneration of the planet and society. After selling Silver Oak Cellars in 2001, Bonny is now a partner in Meyer Family Cellars, a winery run by her son, Matt, and daughter-in-law, Karen.
Bonny lives in the old redwood farmhouse surrounded by Cabernet vines in the middle of the Napa Valley where she and her beloved, Justin, raised their family.
Latest Vlog
Subscribe to my YouTube Channel
Join Cindy, Kelly and I as Cindy teaches us how to make Ti Leaf Lei. Ti Leaf Lei are often given to honor and celebrate the accomplishments of friends and family. Cindy shows us how to easily make these lei at home. The leaves are harvested and pre-frozen to imbue maximum flexibility, making it possible for us to tie and twist the leaves into this classic rope-style lei.
Sarah McCrum offers expansive and extraordinary insight into the energy and benevolent nature of Money. Her consistent message invites us to realize that Money wants us to thrive individually and collectively and to support us as we engage in creative activities we love and exchange with each other. Transform your relationship with money.
Join me and whale videographer Everett Peacock as we stroll into the gentle shallows of Baby Beach to collect pure ocean water. Baking-dishes filled with this flavor rich water will bake in Everett's DIY backyard solar oven. Within 10 days time this pristine water will leave behind a gourmet treasure of the most delicious local sea salt all made effortlessly by harnessing the Lahaina sun.
Join me and Jeff as we head out for a whale watch. We will see a baby playing and breaching over and over again and adults surfacing near our raft. Lastly, we will be treated to spectacular arial footage from "Whale Dance" generously shared with us by Everett Peacock, TheFlyingHawaiian.
Hawaii is just as stunning from the air as it is from the beach. Come with me as we fly above Hawaii to visit my friend Dr. Ira Zunin on Oahu. We will fly by serene Molokai on our way there and back with her deep lava flow mountain gorges that look like Pele's long wavy tresses. The highlights of my time are a tour of Hawaii Kai in Ira's Boston Whaler and a visit to his integrative health clinic, Manakai O Malama. The flight back was a thrilling and beautiful end to a wonderful day.
What better way to celebrate being in Hawaii than going to a luau! At the Feast of Lele we journeyed through the South Pacific Islands of Hawaii, New Zealand, Tahiti, and Samoa on the wings of unique but related languages, foods and dance. The similarities of these island cultures make it clear they share a common heritage.
Events
Schedule a BOOK CLUB DISCUSSION or AUTHOR'S CONVERSATION & READING with Bonny Meyer
Bonny Meyer is available to meet with your Book Club (in person or virtual) to discuss Perfectly Paired: The Love Affair Behind Silver Oak Cellars.
To get more information, or to schedule a reading, please contact Bonny.
AUTHOR'S BOOK TALK & WINE TASTING with Bonny Meyer
Bonny's Author's Book Talk & Wine Tasting has been scheduled for Thursday, May 19, 2022 at Sausalito Books By The Bay. Located at 100 Bay Street (in Sausalito), the event will begin at 6:00pm with a mix and mingle, while sipping Meyer Family Cellars' and Silver Oak wines. Cheryl Popp and Bonny Meyer will chat about Perfectly Paired. There will be a reading and guests will have an opportunity to ask questions. This event is open to the public and there is no charge to attend.