By Bonny Meyer
A moving, behind-the-scenes look at the making of one of Napa Valley's most legendary wineries, Silver Oak Cellars. Bonny Meyer, co-founder and wife of wine legend Justin Meyer, provides an intimate portrayal of the love affair that infused Silver Oak's magical cabernet.
CHRISTMAS SPECIAL:
Give the Gift of Love for the Holidays

Available Now! Order Perfectly Paired – $12 with Free Shipping through 2021.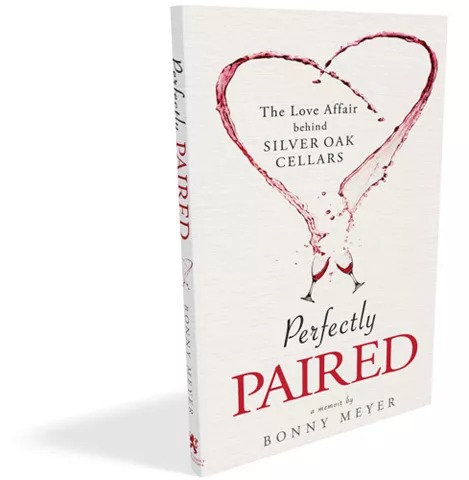 BIO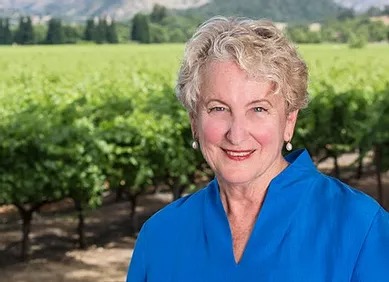 Bonny Meyer began thinking and writing about the nature of love when she was fifteen. She met Brother Justin shortly after she turned eighteen at his 29th birthday party. They spent that evening playing music together igniting the love affair that changed their lives and ultimately spawned Silver Oak Cellars.
Napa Valley vintners, inspired by the extraordinary success and reputation of Silver Oak Cabernets focused more and more on that variety. Today, Cabernet is considered the king of the Napa Valley red wines with some bottles commanding as much as $1,000. Its flavor profile displays a wide variety of black fruits, including currant, cherry and plum, often showing notes of spice from American or French oak barrel aging. It pairs beautifully with robust red meat dishes such as game, lamb, aged steaks, cheeses, and love.
​After establishing and growing Silver Oak and the unexpected death of Justin, Bonny devoted her attention to addressing world environmental, social, and economic challenges by financially supporting social ventures. She has been acknowledged by Forbes Magazine and the financial industry as a pioneer of impact and regenerative investing.
After years of encouragement to write about their love affair, she decided to share the story of how she and Justin met, fell in love, and created a business and wines infused with their values and love for one another.
Today, Bonny Meyer is the Principal of Meyer Family Enterprises, an investment company dedicated to the regeneration of the planet and society. After selling Silver Oak Cellars in 2001, Bonny is now a partner in Meyer Family Cellars, a winery run by her son, Matt, and daughter-in-law, Karen.
Bonny lives in the old redwood farmhouse surrounded by Cabernet vines in the middle of the Napa Valley where she and her beloved, Justin, raised their family.
Latest Vlog
Join me for our local Dia de los Muertos celebration. There is music, decorated skulls, elaborate altars honoring family members who have died, revelers in costume with painted faces, and of course great food. I hope this video brings you delight and serves as an invitation to attend this fiesta next year.
Just after the last grapes are harvested and before the first rains, we sow a carefully chosen seed mix that will germinate and grow over the winter into the early summer, contributing to healthier soil beneath the vines and attracting beneficial insects. Working with nature in this way contributes to a better environment and results in better, more delicious wines. Yum!
Come with me into the Bonny's Vineyard garden as we harvest the last of the tomatoes and basil before the first frost ends the season. Then come into the kitchen as we demonstrate the fabulous and easy summer salad of Tomatoes & Burrata. This dish is probably the quintessential way to show off and enjoy beautiful heirloom tomatoes.
Catch the excitement and be part of the early morning and middle of the night harvest! After a year of hibernation, emersion, bloom, growth, véraison, and maturity, harvest is the penultimate day for the vines and those who have tended them.

My wedding anniversary inspired me to create this sweet remembrance video of my wedding day 49 years ago. Here's to love and to all of you who celebrate wedding anniversaries and sweet remembrance days like me, and to all of us in our never-ending creation of new heartfelt relationships and beautiful memories.

Come along with me on my maiden kayak cruise touring our Sausalito houseboats from the water. Issaquah and Liberty Dock backyards feature kayaks, paddleboards, and boats instead of containers full of flowers. Come on in and join the fun! Anyone can rent a kayak or paddleboard in Sausalito at Seatrek.com

Subscribe to my YouTube Channel
Events
Schedule a BOOK CLUB DISCUSSION or AUTHOR'S CONVERSATION & READING with Bonny Meyer
Beginning in January 2022, Bonny Meyer will be available to meet with your Book Club (in person or virtual) to discuss Perfectly Paired: The Love Affair Behind Silver Oak Cellars.
Bonny's inaugural Author's Conversation & Reading kicks-off in January 2022 at Sausalito Books By The Bay. (January date, to be determined)
To get more information, or to schedule a reading, please contact Bonny.
NOETIC LEADERSHIP IN ACTION: Join IONS CEO Claire Lachance as she talks with Bonny Meyer, author of Perfectly Paired and Principal of Meyer Family Enterprises.
Claire and Bonny will explore how a noetic approach to leadership has played a role in Bonny's life and career, including how she and her late husband, Justin Meyer, established Silver Oak Cellars and grew it into one of Napa Valley's most legendary wineries.