By Bonny Meyer
A moving, behind-the-scenes look at the making of one of Napa Valley's most legendary wineries, Silver Oak Cellars. Bonny Meyer, co-founder and wife of wine legend Justin Meyer, provides an intimate portrayal of the love affair that infused Silver Oak's magical cabernet.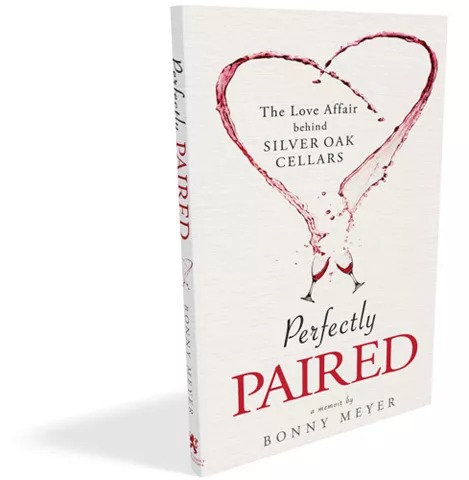 BIO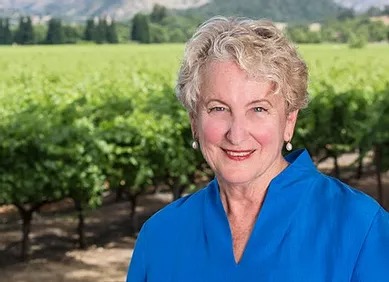 Bonny Meyer began thinking and writing about the nature of love when she was fifteen. She met Brother Justin shortly after she turned eighteen at his 29th birthday party. They spent that evening playing music together igniting the love affair that changed their lives and ultimately spawned Silver Oak Cellars.
Napa Valley vintners, inspired by the extraordinary success and reputation of Silver Oak Cabernets focused more and more on that variety. Today, Cabernet is considered the king of the Napa Valley red wines with some bottles commanding as much as $1,000. Its flavor profile displays a wide variety of black fruits, including currant, cherry and plum, often showing notes of spice from American or French oak barrel aging. It pairs beautifully with robust red meat dishes such as game, lamb, aged steaks, cheeses, and love.
​After establishing and growing Silver Oak and the unexpected death of Justin, Bonny devoted her attention to addressing world environmental, social, and economic challenges by financially supporting social ventures. She has been acknowledged by Forbes Magazine and the financial industry as a pioneer of impact and regenerative investing.
After years of encouragement to write about their love affair, she decided to share the story of how she and Justin met, fell in love, and created a business and wines infused with their values and love for one another.
Today, Bonny Meyer is the Principal of Meyer Family Enterprises, an investment company dedicated to the regeneration of the planet and society. After selling Silver Oak Cellars in 2001, Bonny is now a partner in Meyer Family Cellars, a winery run by her son, Matt, and daughter-in-law, Karen.
Bonny lives in the old redwood farmhouse surrounded by Cabernet vines in the middle of the Napa Valley where she and her beloved, Justin, raised their family.
Latest Vlog
Subscribe to my YouTube Channel
Inspired by a beautiful sunrise I decided to create a kaleidoscope of sunrises for you from my favorite images taken over many years. So sit back and relax and enjoy the images and music!
Join me in the park as the residents of the Sausalito houseboat community share their dance-inspiring music, delicious food and impressive art with a little magic thrown in. Sometimes you never know about the hidden talents of the girl or guy next door until the invitation goes out and the table is set for fun!
Spring in Bonny's Vineyard
The vines EXPLODE with life in spring! Beginning with bud break the grapevines transform from leafless wooden forms to a dense profusion of green leaves in the matter of a month. It feels like the shoots grow an inch a day while the clusters elongate and prepare to bloom. Take a walk in Bonny's Vineyard with me and experience the uplifting energy of life reaching for the sky.
Join Cindy, Kelly and I as Cindy teaches us how to make Ti Leaf Lei. Ti Leaf Lei are often given to honor and celebrate the accomplishments of friends and family. Cindy shows us how to easily make these lei at home. The leaves are harvested and pre-frozen to imbue maximum flexibility, making it possible for us to tie and twist the leaves into this classic rope-style lei.
Sarah McCrum offers expansive and extraordinary insight into the energy and benevolent nature of Money. Her consistent message invites us to realize that Money wants us to thrive individually and collectively and to support us as we engage in creative activities we love and exchange with each other. Transform your relationship with money.
Events
Schedule a BOOK CLUB DISCUSSION or AUTHOR'S CONVERSATION & READING with Bonny Meyer
Bonny Meyer is available to meet with your Book Club (in person or virtual) to discuss Perfectly Paired: The Love Affair Behind Silver Oak Cellars.
To get more information, or to schedule a reading, please contact Bonny.
AUTHOR'S BOOK TALK & WINE TASTING with Bonny Meyer
Attendees were treated with a sampling of Meyer Family Cellars' and Silver Oak Wines. The mix and mingle event was hosted at Sausalito Books by the Bay, by Cheryl Popp. She led an interview-style conversation with Bonny Meyer as the two chatted about Perfectly Paired.
"The enchanting evening was moving, inspirational and insightful."
"I can't tell you how much your memoir resonated with me. I am so impressed with all that you and Justin did and HOW you did it."