By Bonny Meyer
A moving, behind-the-scenes look at the making of one of Napa Valley's most legendary wineries, Silver Oak Cellars. Bonny Meyer, co-founder and wife of wine legend Justin Meyer, provides an intimate portrayal of the love affair that infused Silver Oak's magical cabernet.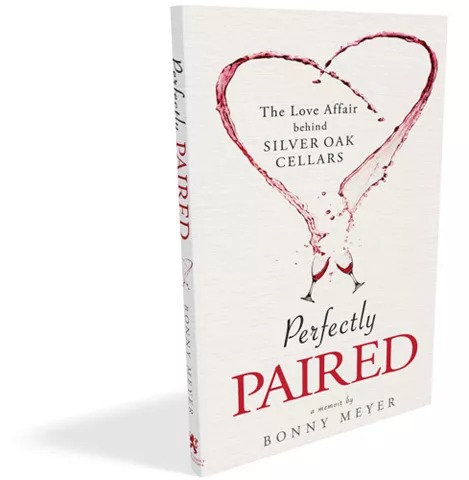 BIO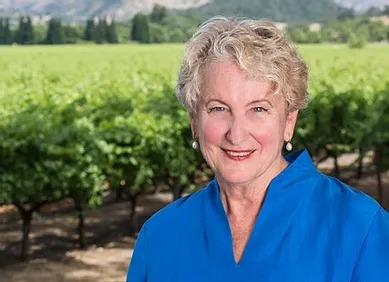 Bonny Meyer began thinking and writing about the nature of love when she was fifteen. She met Brother Justin shortly after she turned eighteen at his 29th birthday party. They spent that evening playing music together igniting the love affair that changed their lives and ultimately spawned Silver Oak Cellars.
Napa Valley vintners, inspired by the extraordinary success and reputation of Silver Oak Cabernets focused more and more on that variety. Today, Cabernet is considered the king of the Napa Valley red wines with some bottles commanding as much as $1,000. Its flavor profile displays a wide variety of black fruits, including currant, cherry and plum, often showing notes of spice from American or French oak barrel aging. It pairs beautifully with robust red meat dishes such as game, lamb, aged steaks, cheeses, and love.
​After establishing and growing Silver Oak and the unexpected death of Justin, Bonny devoted her attention to addressing world environmental, social, and economic challenges by financially supporting social ventures. She has been acknowledged by Forbes Magazine and the financial industry as a pioneer of impact and regenerative investing.
After years of encouragement to write about their love affair, she decided to share the story of how she and Justin met, fell in love, and created a business and wines infused with their values and love for one another.
Today, Bonny Meyer is the Principal of Meyer Family Enterprises, an investment company dedicated to the regeneration of the planet and society. After selling Silver Oak Cellars in 2001, Bonny is now a partner in Meyer Family Cellars, a winery run by her son, Matt, and daughter-in-law, Karen.
Bonny lives in the old redwood farmhouse surrounded by Cabernet vines in the middle of the Napa Valley where she and her beloved, Justin, raised their family.
Latest Vlog
It is remarkable how much tender loving care a premium vineyard receives. Extraneous shoots are suckered, primary canes are tucked under trellis wires and the whole vineyard is monitored and managed for mildew and pesky weeds and pests. All these efforts come together to create delicious memorable Meyer Family Cabernets. 
Hawaiian Slack Key Guitar
I love Slack Key Guitar! It is a unique musical form that arose out of the cowboy or paniolo culture of Hawaii's Big Island. Learn a little about the origin story and listen to master Uncle Kahumoku while ukulele player, Peter deAquino, dances an impromptu hula.

A sad tale of injury and attempted restoration. Was it the fall or was it the surgeon that caused the demise? Is there a happy ending? Find out.
Bud Break is one of the most exciting and active times in the vineyard. It is the miracle of new life bursting open everywhere you look. It is the harbinger of spring and goes off like a frost alarm propelling farmers into action. This is your invitation to witness this miracle!
Come along with me and Cindy as we explore beautiful beaches of Makena in South Maui. Avoiding the wide open beaches of Big Beach and Little Beach, we stuck to the lovely little coves bordered by lava rock outcroppings. Here we found swimmers, snorkelers, fishermen and plenty of wild chickens!
Subscribe to my YouTube Channel
Events
NOETIC LEADERSHIP IN ACTION: Join IONS CEO Claire Lachance as she talks with Bonny Meyer, author of Perfectly Paired and Principal of Meyer Family Enterprises.
Claire and Bonny will explore how a noetic approach to leadership has played a role in Bonny's life and career, including how she and her late husband, Justin Meyer, established Silver Oak Cellars and grew it into one of Napa Valley's most legendary wineries.
Please register even if you can't attend live and you'll receive an email with a link to the recording.
Bonny joins Nancy Yearout on the high road to demonstrate how to use the reset button to go from fear to peace.
This is a wonderful technique that anyone can do anywhere to calm down when life hits you hard. Bonny takes us through this practice that has worked for her and for many people. She teaches us to refocus on the world around us and to commit to be more accepting of life and more peaceful and happier on the inside!
IMPACT Podcast with Nigel Bennett and Devon Kenzo – featuring "The Game Changers." People who are making the world a better place for all life on our big blue planet.